Why you don't have to be a giant firm to use their tactics for growth.
"Right now, we're at four employees, including me," Johnny Flavin says to kick off our conversation. "But we're in the process of merging two firms under us. One firm has two employees; the other has nine. So we'll be 15 employees soon."
If you're like us, you've been following the M&A growth trend in the advisor industry with interest. What started 15 years ago with a few main aggregators is now a mainstream trend. Disruption is everywhere, and even smaller firms are looking to grow through mergers.
Case in point: Aspire Capital Advisors.
Founder Johnny Flavin started his own RIA in 2018 with zero clients. Flavin's been working with Advyzon since he broke away, so when he told us he was doubling his assets under management and nearly quadrupling his headcount in 2021, we asked to speak with him about his growth story, so we could share the lessons he learned with other advisors.
His takeaway? Growth is great, but any growth, from adding clients to adding advisors, needs to be strategic and people-focused.
People drive growth
People are Johnny Flavin's specialty. Like many advisors, clients are his favorite part of the job. Flavin credits putting people first for how he went from zero dollars in AUM in 2019 to more than $200M in 2020 with no advertising and no acquisitions.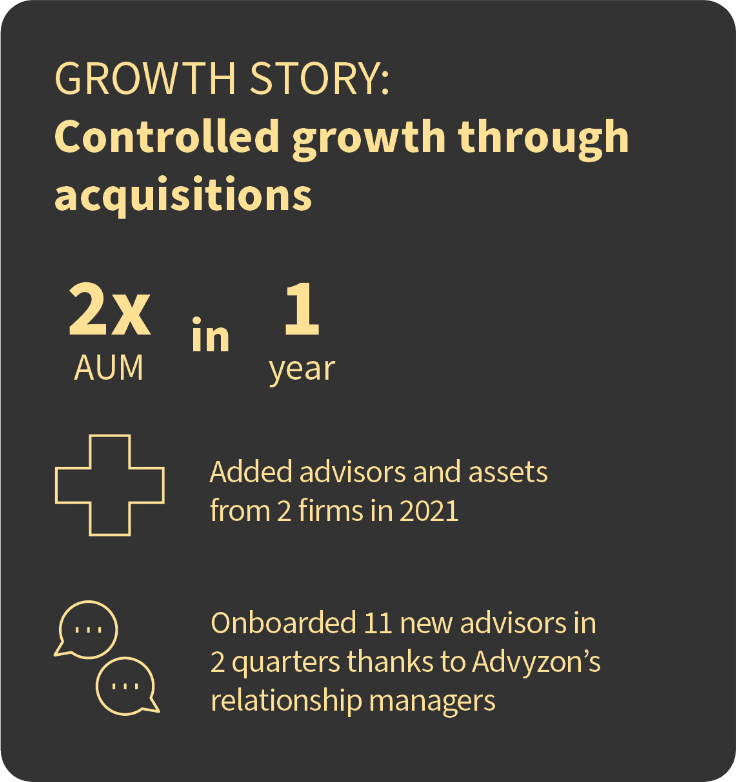 Take asset minimums as an example. Aspire Capital Advisors has two primary client profiles: people nearing retirement with close
to a million in assets and businesses who need a fiduciary advisor for their 401(k) plans.
Despite having this profile, however, Aspire doesn't have an asset minimum. And Flavin says this creates opportunities for him in both areas.
With individuals, it means he can help his clients' children invest, and he's created a dedicated program to help him do it efficiently. This program sets him up with a new generation while simultaneously improving his relationship with existing clients.
Plus, Flavin learned the hard way that small clients don't always stay small.
"When I first started in the business 26 years ago, all my friends and family signed up," he says, adding that many did so with smaller accounts. Eventually, Flavin says, his partner wanted to become a more elite firm and required advisors to fire everyone whose assets fell below a certain target, which included several of Flavin's friends.
"One of them went on to set up her own law firm as a partner and is uber successful," Flavin recalls. "She has another advisor running her 401(k) and handling her personal finances."
Not focusing exclusively on high-net-worth clients can help with diversification, too. Flavin points out that three $1M accounts bring in more revenue for him, based on his fee structure, than one $3M account. Plus, losing one account isn't as devastating if it happens.
Flavin also hopes this client-first, no-asset-minimum approach will help as he grows by acquisition.
Growth by acquisition
"As you know, in our business, acquisitions are huge right now. A lot of firms are selling, a lot of the BDs that people clear through are being bought, so there's a lot of movement out there. If you just get out there and meet with these people, there's opportunities to kind of bring them into your firm," he explains.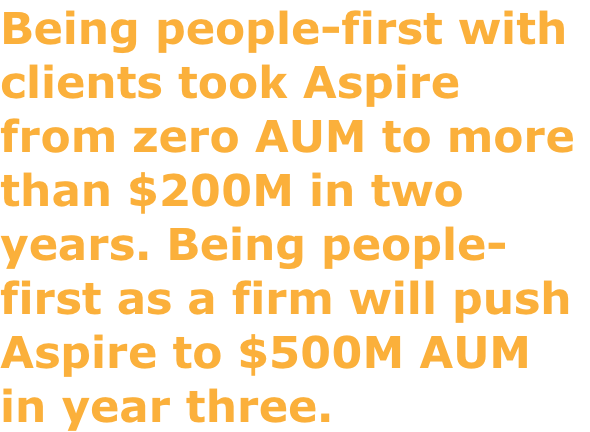 But you need something to convince them to join you, instead of going out on their own. Having the right systems in place is a great start, since not everyone wants to build a new practice from scratch. But having the right corporate culture might be even more important.
That's where Flavin's people-first mentality once again helps with growth. The corporate culture at Aspire Capital Advisors reflects Flavin's time in the financial services industry: "I have a simple policy: No a**holes allowed."
While not everyone will love the blunt phrasing, plenty of advisors love the policy. And that matters when it comes to M&A, where fit is important.
For example: Flavin was able to acquire advisors because they weren't comfortable with the culture at the RIA that bought their previous firm. For that buyer, the firm's culture hurt their deal. But the mismatch was Flavin's gain, since the mentality at Aspire won over a team that might otherwise have started their own firm.
Flavin isn't doing an acquisition in the traditional sense, with upfront payments. Instead, he's merging new advisors and their businesses under his in a move that essentially doubled his AUM.
Being people-first with clients took Aspire from zero AUM to more than $200M in two years. Being people-first as a firm will push Aspire to $500M AUM in year three.
How to grow smartly
When you're doubling or tripling the size of an advisory, the "how" is critical. If you don't grow smartly, you risk losing clients and jeopardizing the same growth you worked so hard for.
"Capacity is a really big thing," Flavin says. "You want to make sure you have the capacity to grow correctly." Having Advyzon as a partner helped ease his concerns about capacity. His strong custodial relationships (with TD Ameritrade and Charles Schwab) were a big factor, too.
Even still, he says, "It's not without its bumps and bruises."



Both firms he brought in had standalone CRM systems paired with additional portfolio management and billing software prior to the merger. So training his new team on an all-in-one system had the potential to be jarring.
"It's like taking someone who's been riding a tricycle successfully for a long time, and then you give them a two-wheel bike," he explains. Even so, he planned to have everyone onboarded in less than six months, and he created schedules to that effect to help keep things on track.
Data transfer itself took just two or three weeks, and onboarding stayed mostly fluid thanks to training resources and Advyzon's own people-first approach to client relationships. Flavin relied heavily on his relationship manager during onboarding. "It's nice to have a person to go to who knows the system like the back of her hand. And if she isn't in, we work with her team," Flavin says.
Flavin does warn, however, that you can get too caught up in the logistics. As important as good onboarding is, it's ultimately a short-term thing. And you need a long-term focus when it comes to growth: "You have to figure out where you want to go," he explains.
"The big thing for me is control of growth, we're not looking to become the next Merrill Lynch," he says. "I only want to grow with the right people and the right culture."
… Here at Advyzon, we tend to agree. We think our people-first approach makes us the right people to help firms grow. See for yourself: Book a consultation.
Want to see more of Aspire's testimonial? Read more here